Goat ownership is a truly rewarding & interesting experience. There are many facets of 'caring' for your goat that may be explored, depending upon your interests.
These include:
Exhibiting your goat at the annual shows
Breeding your goat(s)
Growing your herd for the purpose of meat and milk
Milk collection for the production of cheese
Keeping goat-friendly vegetation under control on your land or in your garden
And don't forget...
They are pretty or handsome, friendly, funny and clever
They come in a unique range of breeds, shapes, colours and sizes
The useful bi-products such as milk, which in turn can be made into cheese, ice cream and soap to list but a few.
Some have a coat that can be used in fabrics.
Showing goats can be fun for all the family.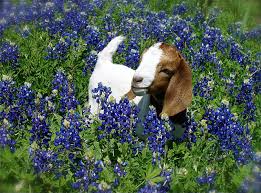 Getting Started in Goat Husbandry
What do you need to successfully keep a healthy goat?
A love of goats!
Basic knowledge of husbandry. Contact breed societies for information about specific breeds including breed traits, temperaments and their unique requirements.
Research through reading, browsing the Internet and visit local shows to chat with breeders.
Seek advice on how to handle goats and what general maintenance is needed, such as foot trimming.
You will need sufficient open space for specific breeds; for example, a pair of Pygmy goats or Golden Guernsey's will need less space than other larger breeds.
Keep them in at least pairs. They are sociable, herd animals.
Most goats like to browse on shrubs and trees as well as grass so enjoy varied surroundings or being supplied with trimmings.
Good fencing around the enclosure. Goats can climb and jump!
A supply of year-round forage to include concentrates (goat mix) and hay.
A shelter that is, as a minimum, waterproof and deflects the elements. Ideally with at least 3 enclosed walls backing on to the prevailing winds (it does not need to be totally closed in – good air circulation is just as important in maintaining health as being water tight and draft free). Most goats like to sleep on a raised bed within the shelter – a wooden pallet will often suffice. Rubber matting, dust free wood shavings, or straw for bedding are best. Shredded paper and cardboard can be used but can cause problems if your goat decides to eat them in large quantities!
Fresh drinking water supply.
Playtime is important to goats, hence the saying 'to act the goat'. If you have space build them an adventure playground or at the very least provide them with a 3ft podium to stand on and survey the surroundings from (but not too close to the fence!)
Be prepared to call the Vet, which can be expensive. Even preventative medicine such as vaccinations and wormers cost money and are an important part of keeping your goats healthy.
Overall be prepared to love them, laugh at them, cry for them… and spend time & money on them!
The UK RSPCA have created a comprehensive & clear booklet giving information on becoming a goat keeper. It can be found here.
N.B this contains information & regulations relevant to UK livestock which may not be the same as Guernsey legislation.